Our mission is simple: respond quickly to your printing needs. How? By taking care to read, listen and speak to you in order to carry out your orders with efficiency and precision. At Imprimerie Maxime, you present your goals to us and we help you achieve them.
Whether or not you are familiar with the printing industry, the important thing is that together we will make your ideas shine on paper.
Imprimerie Maxime, we've been around for a while!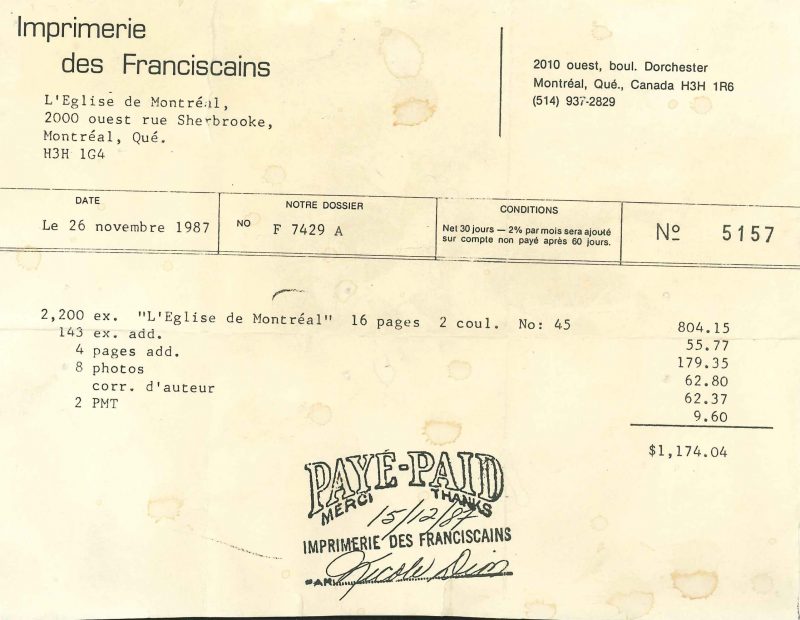 Imprimerie Maxime is historically a religious printing house where the Franciscans used to print for entertainment. One day, the only lay employee, Mr. Gilles Dubuc, decides to start selling printing services to commercial customers. He was therefore THE 1st print advertising consultant for Maxime.
When the death of the last priest (Brother Léon) occurs, Mr. Dubuc buys the printing office of the syndic of the Franciscans.
In 1987, he moved into the current offices of Imprimerie Maxime, located at 2050, rue Dandurand, in Montreal. Several successful years have followed this transition. When Mr. Dubuc retires, the succession is ensured by Mr. Louis Boucher.
When Mr. Boucher in turn decided to retire, it was Mr. André Paiement, the current president, who took over the reins of the company for which he had worked so hard, first as a press operator, then as production manager.
The two sons of Louis Boucher, Alexandre and Martin, have also been employees of the family business since their youth. So the three decide to join forces and continue the business you know today.
Several acquisitions of state-of-the-art machinery followed. The machine park is constantly renewed. Ongoing employee training and developments in printing techniques are always a priority.
Since 1987, we have remained the reference in digital, offset and large format printing. Our loyal customers can count on us to find the best solutions for complex and large-scale projects in order to make their ideas shine for many more years!